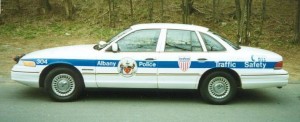 Your Albany NY Speeding Ticket Lawyer
Did you recently get pulled over in Albany, NY for a speeding ticket? Carbone & Carbone LLP can help. Call (518)283-1245.
You were driving home from seeing a show at The Palace in Albany, or maybe after a great shopping night at First off, relax. You aren't the first to see the above police car in your rear view mirror, and you won't be the last. Many people have. Some of these people only end up paying a small fee, or a slap on the wrist. Other people end up with quite the opposite outcome. Choose your move wisely, and all will be okay.
LOCAL LAWYERS: Being stationed not even 10 minutes from route 787, we have a great bit of experience with Albany courts and, in turn, dealing with many of those annoying speeding tickets. By choosing a LOCAL area attorney with a good working relationship with many area courts, we may be able to help you save money on your insurance in the long run.
OUR GOAL STATEMENT: We provide all of our speeding ticket cases with the optimal three I's of practice; Intensity, Integrity and Intelligence.
ALBANY OFFICES Tel: (518) 283-1245
Fax: (518) 326-0366
ADIRONDACK OFFICES: Tel: (518) 668-3711
Fax: (518) 326-0366