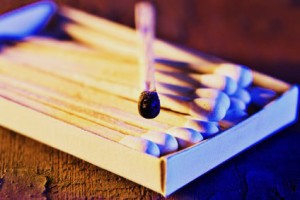 Arson Charges Defense Lawyer
Arson is a malicious act of either the exploding or the burning of a dwelling of another or a building. Arson is committed with intent of some kind of premeditated purpose and requires evidence of criminal activity leading to the fire for conviction.  If you are under suspicion of, or have been arrested on arson charges, this is serious business. You should seek legal counsel from the best New York criminal lawyer available.
The penalty for arson offenders is of great range. A minor arson charge is only a misdemeanor. However, the most serious arson charge is considered to be an A-1 Felony. This type of arson charge  is as serious a crime as a murder charge.
Arson cases are usually handled by specialized officers, in Upstate New York. Important arson cases are investigated by New Y0rk Fire Marshalls or other high officers of the Fire Department of New York State.  Also,  many District Attorneys use highly-trained prosecutors who exclusively handle arson cases in the state. Therefore, it is very important that a person facing an arson case is represented by a criminal attorney who has experience like the ones at Carbone & Carbone.
Call us today at 518-283-1245.