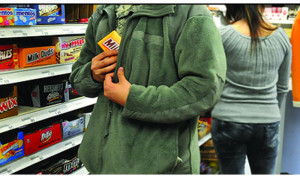 POTENTIAL CRIMINAL CHARGES FOR SHOPLIFTING IN UPSTATE NEW YORK
Petit Larceny, Shoplifting and other Thefts require special attention from an experienced criminal defense attorney. There are many different charges and rules that need to be factored in when considering a plea bargain.
Whether the police issued you an appearance ticket or not, the charges you will likely face include the misdemeanors or felonies charges of:
Petit Larceny (NY Penal Law 155.25)
Felony Shoplifting in Excess of $1,000
Grand Larceny in the Fourth Degree (NY Penal Law 155.30)
Criminal Possession of Stolen Property in the Fourth Degree (NY Penal Law 165.45)
Criminal Possession of Stolen Property in the Fifth Degree (NY Penal Law 165.40)
Both Petit Larceny and Stolen Property in the 5th Degree  are misdemeanors. This does not mean they shouldn't be taken seriously. Both can actually be punishable by Upstate New York Courts by one year in jail. They can be generally viewed as the stealing of property and possession of stolen property regardless of how insignificant the value is.
Thefts of property value exceeding $1,000 are more extreme. Grand Larceny and Criminal Possession of Stolen Property in the 4th Degree are both actually now  considered "E" felonies in the eyes of the court. These charges are even more serious and can be punishable by serving up to four years in prison.
CARBONE & CARBONE CAN GET YOU A PLEA OFFER
Each County  has their own plea guidelines.  the ramification of stealing $200 worth of merchandise from a store in Albany may be different than in Lake George, Rochester, Saratoga Springs or Clifton Park. Our 30 experience and relationships with various courts can help you get the best deal
There is no real "cookie cutter" defense to a petit larceny shoplifting case.  First time offences, the severity of the crime, the value of the property, the actual charge and the location of the alleged crime are all factors that our attorneys look at for you.
Call us today and we can help. 518-283-1245