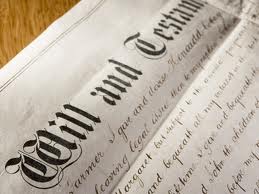 NOW IS THE TIME TO PLAN A WILL IN ALBANY NY
Thinking about getting a will drafted up is often a dreadful and morbid thought. It's something that a lot of people would rather not deal with, especially when they feel they have many more years ahead of them.
When deciding to create a will, a person does not have to be in their "golden years" to do so. In fact, the earlier a person puts a will in place, the better off they will be in terms of the overall security of their family's best interest.
When a person has a properly crafted will in place, they are essentially protecting not just their monetary assets, but also making sure that that the proper person handles their estate once they pass and that their children, if any, are provided for in terms of guardianship.
Most people are under the assumption they need not be concerned about creating a will until they reach an advanced age. This train of thought is usually all well and good, but as we all know, life can throw us a few unsuspected "curve balls" and having a proper will in place is one of the best ways to ensure asset and family security.
Not only does a person better protect their assets by having a will in place, it also makes things extremely easier on the surviving family members. During the time of death, an individual's family will no doubt be emotionally compromised. The added stress of dealing with a loved one's estate can be overwhelming. The best way to help family members better deal with this stressful situation is to have a will in place that specifically outlines and delineates their wishes.
A typical will designates the individual's Executor, which is the person or persons who carry out the legal acts specified in the will. The Executor, often a family member or trusted confidant, is the one who makes sure that the will's wishes are fully executed, hence the name. By having a will in place, it gives the holder assurance that everything will be carried out according to his or her satisfaction upon death.
Practically speaking, the best time to create a will is when a person begins to start a family. Without question, one of the most important things in an individual's life is the health and welfare of their children. If an unsuspected accident or illness occurs, one would ultimately want to be sure that their children are provided for, both in terms of finances and in terms of parental care. For example, if a tragedy occurs where both parents die in an accident, a will would then come into play to designate who will become the children's legal guardian and caregiver. If a will is not already in place, the person(s) to take over as caregivers for said children are not always clearly defined. For this very reason, families should have a will in place as early as possible so that their loved ones are adequately protected and provided for.
On a personal note, I was 29 years old when my wife and I had our wills drawn up. This was how old I was when my first child was born. My father, who is also my law partner, encouraged me to draw up a will. I asked him why so early. His response was "You are never too young to have a will."