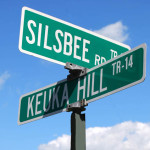 REAL PROPERTY LAWYER
Carbone & Carbone LLP handles a variety of real property matters, including but not limited to preparing contracts of sale, deeds, residential and commercial closings, and evictions.
Residential and Commercial Closings
We offer our services to both buyer and seller. If you are a first time buyer, our attorneys take the worry and hassle upon them by being readily accessible to answer your questions and address any concerns you may have. All documents are carefully reviewed and title insurance is ordered when required. If you are a seller we prepare the deed and review all documents as necessary. Our goal is to make the day of closing go smoothly and comfortably for our clients.
Licensed Real Estate Broker
In addition, Managing Partner, Martin A. Carbone, is a Licensed Real Estate Broker with Carbone Realty Group LLC. Clients have the convenient option to use Carbone & Carbone LLP for the legal end of their real estate needs and Carbone Realty Group LLC as their realtor. Services include listing property for sellers and searching property for those who wish to buy.
Below is a list of counties we deal with extensively, building court relationships to foster success.
 Please contact us with any questions about your case that you may have at 518-283-1245.