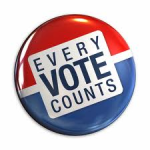 With election day right around the corner I thought I would share a personal experience as it pertains to an election campaign.
One hears the phrase "Every vote counts" during times of election, but this term holds very true to myself and my family in a very literal sense.
My father and law partner, Martin A. Carbone, Sr., was the acting City Court Judge in Mechanicville, NY for 12 years before seeking the top judicial spot. Prior to his campaign in the fall of 1991, he had already served a year as the full time City Court judge, as his predecessor fell ill and could not complete the remainder of his term.
In order to successfully seek re-election, my dear old dad not only had to fight with the powers that be to finish out his current term, but he also had to change political parties in order to be endorsed and run on a major party line.
My family and I felt like it was us against the world so to speak and we went full speed ahead in my dad's quest to remain City Court judge.
To add insult to injury, my father broke his foot right at the begining of his campaign and was unable to go door to door and meet the public at large. I, who was 16 at time, took his place along with my mother. Together we canvassed the majority of the city of Mechanicville spreading the good word on behalf of my dad.
On election night, things were tense because the race for judge was a dead heat. When the night was over, it appeared that my dad had lost the election by 4 votes. However, the absentee ballots were not accounted for so we had to wait about a week to get the final results.
When all the votes were in, my father had won the election by 4 votes. The celebration was short lived, however, as his opponent challenged the validity of some of the absentee ballots in NY Supreme Court and the election was overturned in his favor by one vote.
Our family was initially devastated, but we brushed ourselves off and filed an appeal in the NY State Appellate Division. The appeal took a few months and my dad quietly lived in exile, away from the confines of his city court chambers.
I remember like it was yesterday when I was in my high school band class and a fellow class mate came up to me and said that I was wanted in the main office. I asked what the problem was and he said my father was on the phone. This struck me as odd since my father had never called me at school before. Remember, this was before cell phones, email and text.
I picked up the phone, praying that nobody died. On the other end, I hear my dad simply say "5-0." Confused, I asked him to repeat what he said. He again only said "5-0." Having not a clue what he meant, I said, "5.0 Mustang?" (they were popular at the time) He said "No, 5-0 decision in our favor."
It then hit me that he was reffering to the 5 judge panel that sat on the NY Appellate Division. To win an appeal, one needs at least 3 of the 5 judges to rule in your favor. In our case, all 5 judges ruled in my dad's favor, hence the "5-0."
I lost my mind after I realized what happened and everyone in the school office looked at me like I was nuts, but I couldn't have cared less.
As a result of the Appellate Division's decision, the election was now overturned in my father's favor when one absentee ballot was thrown out and one was reinstated. The one that was reinstated was initially rejected in Supreme Court because it was filled out in green ink. The judge who threw it out must have overlooked the fact that the law was changed in 1974 allowing absentee ballots to be filled out in ANY color ink, not just blue or black, which had been the standard prior. So with the luck of the Irish, the green ink absentee ballot put my dad one vote over the top and named him City Court judge.
The war was not quite over until April 1, 1992, when the NY Court of Appeals, the highest court in the state, refused to hear my father's opponent on appeal. It was over. It was official. On April Fool's Day, my father was officially named City Court judge of Mechanicville.
The moral of this long winded story is every vote counts. Quite literally in my father's case. One vote determined the outcome of his election. If one person who voted for my dad had instead sat back and decided that they didn't need to vote because they wouldn't make a difference, they would have been gravely mistaken. Unfortunately, this is the attitude of a lot of voters, especially when it comes to the major elections.
I experienced how every vote counts up close and personal. On election day, if anyone out there decides not to vote solely on the notion that their vote doesn't count, rest assured, it does. Who knows, your vote just might be the deciding factor. Literally.